Last Thursday Holly and I took a day trip into New York City to spend time with some friends of mine that were visiting from other countries. Teague was coming down from Canada and Geri was staying with her cousin Emily while she was visiting from Singapore. It had been a while since I was in the city. While my sister was attending New York University I went with my parents on day trips into Manhattan regularly, but the last time I had been there was to move her out of her dorm when she was graduating (which was quite some time ago).
I had to get an early start to make the most of the day. My alarm went off at 8am, and I was out the door by 9:30. It takes an hour to drive from Terryville to the Metro-North train station in Fairfield, but from there you can catch a train that goes directly to Grand Central Station. Since you avoid all the traffic and the tolls on the way into the city it beats driving into downtown Manhattan.
All of us met up in the main hall at Grand Central. From there we visited the Metropolitan Museum of Art. As you can see from this photo, the featured exhibit was "Venice and the Islamic World." We were lucky getting there on the fifth of July because the exhibit was only there until the eighth. They didn't allow any photography around this particular exhibit, but there were a number of beautiful Venetian paintings and a few large carpets laid out for display that were gifts from various sultans to the Venetian doges. On the way out there was a gift shop (of course) with art books and the like available for sale. I did pick up a copy of Orhan Pamuk's
Istanbul: Memories and the City
. Pamuk won the Nobel Prize for Literature in 2006, and I had been looking to read something by him ever since.
Other highlights from the museum include this Buddhist shrine in the Asian arts wing
and this giant portrait of George Washington crossing the Delaware.
We didn't spend too much time in the museum because we had to catch a 3:30 cruise. We rushed across half the width of Manhattan to get to Pier 83 where the Circle Line cruise ship was docked. We made it just as they were about to depart. The rush was worth it because once we were on board we were treated to some great views of the southern tip of Manhattan:
The weather remained foggy and hazy the entire day, but at least the rain held off until later in the evening.
After the two hour cruise we took the subway down to Spring Street and walked over to Little Italy. We decided to eat at a place called Taormina, which was one of the few restaurants with enough room to seat all five of us. I ate an exquisite linguini pescatore for dinner--pasta mixed with mussels, clams, and shrimp. We did a little shopping for souvenirs and then went out for dessert. We walked up Bleeker Street to a place called Magnolia Bakery in the West Village to have some cupcakes. I had been there once before a number of years ago, but I had forgotten how good their cupcakes were. I managed to get through two, but once I had finished the second one I was completely full.
We had some trouble finding a subway station in the West Village, but along the way I managed to get some cool pictures of the city at night: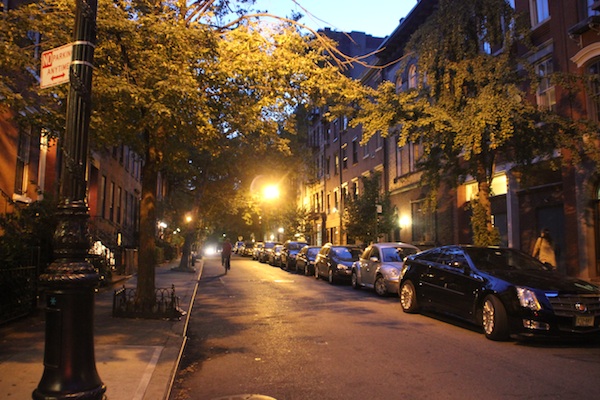 We said a hurried goodbye to Geri and Emily on subway before continuing on to Grand Central. Holly and I made it there just in time to catch the 12:22am train back to Fairfield. We didn't get home until past three in the morning, but it was worth it. A long but thoroughly enjoyable day.